Sunday, October 31, 2004
Geylang~ Si Paku Geylang~~
Hey All...
ok ok start ngan ni.. werd fav aku!~~ *ehem* WWWwwwWWAaazZZzZZZzzaaaAAAaapPPP???!!~~~
heheheh.. biasa takde keje kan.. org giler macam aku je buat gini.. ahakz!~ ok ok.. tadi whole day slack kat umah tapi... biasa ah hidup kalau takde tapi bukan hidup namenye.. heheh tapi.... lepas buka... aku gi geylang!!~ wooohhooo bazaar beb... gerek wa cakap lu!~ padahal takde bende muahahaha... utk aku yg takkan beli baju raya tahun ni takde bende ah.. tapi aku dah fall in lup ngan satu baju kurung... lawa.. harganya $45.. hmmm kalau leh dpt duit pastu akan ku beli.. hehehe
tadi dah nak dekat macam malam raya siot!~ jalan dah macam penguin.. wahduh.. sakit hati... kalau aku jahat... KALAU aje... aku diri blkg pompan.. hehehe ko tau lah kan... pepaham sendir lah eh.. muahahahahaha.... tapi tadi macam enth lah eh.. ramai kengkawan yg aku dah lama tak nampak sume nampak.. seperti... sufian botak (budak kompang), seka saidah aka inzaghi n gang, sesape lagi lah...
abe tym jumpa seka ah... lepak giler nyer!!~~ ada lah hamba Allah ni... entah lah.. aku rasa die jumpa kawan lame die lah.. pasal... tym dorg jumpa je dorg macam "eeehhhhh!!!!~~~" punya lah kuat... aku dah macam.. "ok nasib baik aku tak kenal dorg!!~~" abe ada satu makcik ni "giler ke ape bebudak ni??" aku pun dah dtg aku nye giler... aku, aki n In pun reanactment ah... kite pun "ehhh... dah lame tak nampak ko ah!!!!!! acam???" makcik2 kat situ dah tersengih2 muahahaha...
then walk walk walk... pastu tak tau nak gi mane kite pun melepak kat joochiat nye roof... yeah.. lepak... biasa lah.. melayu.. kaki melepak.. pastu dlm kul 10.40 kite pun balik lah.. dah takde bende nak buat kat geylang tu... aku sampai umah dlm kul 11.30... n then melepak.. ngok citer cine.. makan... n then blog... n skrg ni... aku ngah chat ngan SUFIYAN JUMALI!!! wooohohhhooo n yah... for those yg nak emel die... ni die emel die "vroom_08@hotmail.com"... ok orait... salam alaikum...
Posted by Fr3aK[A]z0iD at 2:15 AM
Saturday, October 30, 2004
Yeay Jumpa Kengkawan Lama..
Salam alaik all...
yeah setelah sekian lama.. aku jumpa gak mika mika sume.. hehehe.. lame siot aku tak jumpa dorg.. ada yg dah nak dekat satu tahun aku tak jumpa... at last jumpa gak akhirnya... yeah smlm gi buka dgn dorg.. dekat mane?? al-majlis.. kat arab street yg tempat org isap sheesha tu... alahai!~ nanti satu ari aku ajak korg k??? ape ko carik je aku kat EM ES EN aka msn.. or AI AR SI aka irc...
ok ok... smlm jumpa dorg kat bugis mrt station.. kat bugis mrt tu nampak beberapa org yg bertudung(mestilah pompan takkan lelaki)... pastu kawan aku ye ye benar nak amik gambar dorg.. so aku lah jadi mangsa kene amikkan gambar... tgh zooming kan kan kan... skali dorg prasan ah... alamak eh.. punya lah malu terus dgn serta merta aku kasi kawan aku die nye cam... dah malu kan so kite decided nak beredar dari mrt station tu... nak gi masjid buka... tapi masih siang.. so kite decide nak gi arcade 1st...
korg tau lah.. kalau gamers dah masuk arcade... mane ingat nak klua... kalau ko kasi $50... itu tym jugak leh abis... tapi ngah syok main game skali kawan aku tegur "dah kul bape ni korg tak nak buka ke?" ah.. ko.. anjat aku kejap.. aku pun ape lagi "ok jom gi mejid!~".. sesampainya di masjid... aku ngok org pun start nak buang mangkok amik sembahyang sume.. aku pun "alah buka je.. solat sendiri2 pun bleh" abe ngah dok syok minum air katira ada satu pakcik dtg "dah buka blom" aku nak ckp je dah.. abe member sume ckp blom... aku ngokkan pakcik tu tersenyum je lah... pakcik tu pun tiba2 ilang.. pastu die gi amikkan kite mee siam.. erm... mee siam die punya lah............
ok ok takmo ckp pasal mee siam... lepas buka n lepas solat.. jumpa members yg lain kat luar mejid... apabila sume sudah berkumpul... kite pun mengangkat kaki menuju ke restoran al-majlis.. kawan aku mintak air-con room... dah maca chalet siot tu bilik cume takde teebee ah.. tapi ada radio... kite pun buat radio tu macam kiteorg yg punya... n bile tyme waiteress tu kasi menu... takde org pun kesah nak pikir nak makan ape.. sume syok dok bebual.. mentang2 dah lame tak nampak... dan bile waiteress tu dtg balik sume "eh nak makan ape eh??" muahahah kesian waiteress tu aku ngok kene tunggu macam... macam... erm... tak tau ah... yg penting die kene tunggu kite decide... n yeah.. aku order ba'mia... name je ba'mia tapi korg tau tak ape??? nasi beriyani ler... name je stylo milo.. muahahahahah....
lepas makan... kite pun dok lah bebual... n oleh kerana kat situ ada 4 org yg dah abis NS, 1 yg masih NS, 1 akan masuk bulan 12 ni, 1 akan masuk march nanti, dan satu(aku) masuk lambat lagi... so... yg 4 org dah abis NS ni kan... ko nak tau dorg buat ape??? dorg citer lah pasal NS kat kawan aku yg akan masuk bulan 12 ni... dari bab kene botak, sampai kene area cleaning, sampai kene water parade, sampai... sampai... macam2 ah.. tapi kalau aku jadi kawan aku yg nak masuk tu.. aku pun takut nak gi NS dgr dorg citer memacam... bukan takut pasal momok tau... tapi takut atas seksaan yg akan diberikan... tapi seksaan Dia lagi dahsyat...
after talking all sort of NS life.. kite decide nak isap sheesha pulak... tapi kat luar ah... bukan dlm bilik tu.. so kite gi counter kite settle bill yg kat bilik tu... total $92.70... n then gi lah duduk luar... maka bermulalah conversation seorg kakak waiteress ngan kawan aku....
kawan: "ah kak... kite nak order sheesha ah"
kakak: "kalau nak sheesha kene tunggu lama sikit pasal bottle dah abis"
kawan: "bape lame tu eh kak agak2"
kakak: "entah tak pasti... dlm 1/2 an hour"
kawan: "erk.. takpe ah kak nanti kite nak order kite pgl"
setelah kakak tu beredar...
aku: "korg giler per nak tunggu sampai 1/2 jam..."
kawan: "abe korg nak gi mane"
kawan2 yg lain: "geylang ah acam?"
sume: "ok sembarang"
ah yer geylang abis... pastu walk walk.. sampai kat mcD yg kat bugis seblah bukan kat bugis junction tau.. yg lagi satu nye.. masuk ah pasal sume ngah kehausan... beli air.. aku ngok jam.. erk... dah kul 10.30 aku pun "oklah geng aku blah dulu" aku pun balik ah.. tunggu ape lagi... n dorg dlm perjalanan nak gi tekka.. heheheh
oklah tu dier citer aku smlm... slamat membaca... :D
Posted by Fr3aK[A]z0iD at 5:46 AM
Thursday, October 28, 2004
It's A Boring Boring Day~~
allo all...
Bosan btol nari.. one whole day lepak kat umah je... pastu tido dari kul 3 sampai kul 6 pastu bgn tgl nak buka je.. hehehe... n then went to tamp to meet some chatters.. n then jalan nye jalan... then gi long john nampak abg sedara aku... oleh kerana aku dah lama tak bebual ngan die... aku part wif the chatters n lepak ah bebual ngan abg sedara aku dan tunangnye.. n then pulang ke rumah tak tau nak buat ape.. tu pasal aku update blog ni...
n for besok dorg ajak aku buka kat luar.. haiz.. tapi bapak aku lak ajak gi orchard.. nak check mate aku.. aku nak beli cemate!!~ woohoo cemate beb!!~~ pastu jadi budak nerd.. best sia!~ hehehehe muka je nerd tapi hati.. hanya Dia je yg tahu...
oklah tu je yg aku mampu type nari.. so take care.. n luv u all...
Posted by Fr3aK[A]z0iD at 11:58 PM
Wednesday, October 27, 2004
Im Suppose To Be Studying
Hey All...
yeah as the topic states.. im suppose to be studying now.. but yeah.. i still can change my blog skin!!~~ woohhhooo SMOKING KILLS!! muahahahaha
tommorow's maths paper.. but i can still walk2 at geylang juz now wif both of my cuz... n another fren of ours... it's fun tho... walk2 w/o any arah tujuan.. n then our fren ah bought us dendeng!!~ maceh ah dila!~ n then chill at the playgrd at eunos.. tok tok tok.. n then went home.. still dont want to study still can watch GGPR(gila gila pengantin remaja) n laff the hell out of me..
now as im hepi wif the blog skin n all.. i want to ease myself(again) by reading UJANG!! bumper puasa.. juz bought juz now.. yes ah!! after dat baru blaja... i tink im going to skool early tomolo... to study at skool.. muahahaha study until migrain n then cannot answer the paper.. mampos aku!!~~ muahahahaha
oklah that's all folks..
Posted by Fr3aK[A]z0iD at 2:08 AM
Tuesday, October 26, 2004
Buka Luar Lagi
Hey all..
yesterday been a great day for me lah i tink.. hehehe..
1stly went to TTSH... yeah visit rusydi.. a fren of mine.. who's suffering from throat ulcer.. yeah he can talk orite.. tapi ngok die makan obat macam kecian gitu.. pasal he got to force the medicine down the throat.. hope he'll be orite since exam is juz ard the corner.. get well soon..
then went to city hall.. meet up wif khai a.k.a Xs-Denied.. dah berzaman tak jumpa die.. makin hensem abg2 nak kawin ni.. hehehe yeah.. he's wearing formal as die dari keje... so we decide to have some game of pool.. so we headed to orchard... n play pool kat lucky plaza...
kite main sampai 14 game... wahduh.. penat man.. but yeah... we end up draw.. 7 all.. hehehee... both pro.. heheh no lah.. we both are amatuer.. so everyone can beat us easily.. heheh
n then meet up the rest at far east plaza.. yeah as we want to book the place to break-fast... 1st only one of us go up while the rest waited downstairs.. n u know wat?? we need to order too.. not juz book the seats... haiz!~~ so the rest went up n go decide the food we gonna eat... i ate erm.. dendeng fried kuay teow... it's nice but tak mengenyangkan!!~~ so it sux!!~ hehehe...
n then went to esplanade took some pic... n then go buy some drinks n eskrim... gi esplanade stakat nak makan eskrim je.. pastu dtg lagi 2 org join kiteorang n b4 dat kite plan nak main pool(lagi).. n then we go to paradiz to have the game of pool... hehehe... ni kali main pool reramai kecoh lah sikit kan...
so went back ard 10.30 pastu sampai umah dlm kul 11 gitu?? pastu lepak jap.. n then makan lagi sampai kenyang!!~~ woohoo.. bile dah *burp* baru best kan.. hehehe n then... baring atas katil.. ngok whose line is it anyway.. pikir lepas tu nak blaja.. skali lepas tu... ZZZzzzzzZZZzZZZZZZZZzzZZZzz...
oklah nari tak tau lagi nak gi mane.. so... u guys taking care aite??
Posted by Fr3aK[A]z0iD at 1:16 PM
Monday, October 25, 2004
Lagu!!~~
If I Ain't Got You
by Alicia Keys
Some people live for the fortune
Some people live just for the fame
Some people live for the power, yeah
Some people live just to play the game
Some people think that the physical things define what's within
And I been there before but that life's a bore, so full of the superficial
Chorus:
Some people want it all, but I don't want nothing at all
If it ain't you baby, if I ain't got you baby
Some people want diamond rings , some just want everything
But everything means nothing if I ain't got you, yeah
Some people search for a fountain
The promise is forever young
(You know) Some people need three dozen roses
And that's the only way to prove you love them
Hand me the world on a silver platter
And what good would it be
With no one to share with, no one who truly cares for me
Chorus:
Some people want it all, but I don't want nothing at all
If it ain't you baby, if I ain't got you baby
Some people want diamond rings , some just want everything
But everything means nothing if I ain't got you, you, you
Some people want it all, but I don't want nothing at all
If it ain't you baby, if I ain't got you baby
Some people want diamond rings, some just want everything
But everything means nothing if I ain't got you, yeah
If ain't got you with me baby, ohh, ooo
Say nothing in this whole wide world don't mean a thing
If I ain't got you with me baby x2
Posted by Fr3aK[A]z0iD at 1:42 AM
Sunday, October 24, 2004
THE HELL wif the plan i made...
yeah previous entry was abt my plan for today rite?? yeah it all when upside down n inside out.. y?? hehehe.. let me tell u y...
1st: want to wake up at 9 am but yeah.. after a fren woke me up n reminded me abt smurf i was juz like "ermmmm ok... ah... nak bgn ni..." but after dat.. "zzzZZZZzzz..." hehehe...
2nd: wanna have a hair cut at 11 am.. but yeah.. dat tym i was still "zzzzZZZzzz..."
3rd: finally woke up at 3.15 pm.. woohhoo btol nye penat beb.. tapi yeah.. go for a haircut.. have to wait for like 1/2 hr.. n end up my dad was like "ko gunting ke tak ni??" i was juz pissed off.. haiz!~ its ok.. its my hair.. muahahah
4th: never expected my aunt wld come.. yeah they had their break fast here.. n then they all went to geylang.. i wanted to follow but lazy ah...
5th: never go terawih.. instead laze at home watching "the mask".. ive watched dat movie for a zillion tyme(methaforically) still cannot get enuff of it...
but yeah today like got to study for exam... n yeah 1st paper is.. maths!!~~ wth!~ havent study one bit!~ hehehe... ok take care...till next tym.. muacks!!~~~
Posted by Fr3aK[A]z0iD at 9:09 PM
Plan For today
heheh memandangkan aku takde keje... aku ada tulis plan besok.. heheheh
[x] nanti tido kul 4 bgn kul 5...
[x] then sahur tak tau nak makan ape...
[x] continue tak tido sampai suboh..
[x] tido dlm kul 8 gitu...
[x] kul 9 bgn tgk smurf..
[x] lepas tu dlm kul 11 gi gunting rambut..
[x] balik gunting gi mandi...
[x] on computer n stare screen
[x] tunggu sampai buka...
[x] gi solat terawih
[x] online lagi
[x] n the story continues...
acam ok tak plan aku?? hehehe actually besok one whole day duduk umah je... eheheheh take care aitez?
Posted by Fr3aK[A]z0iD at 1:23 AM
Saturday, October 23, 2004
Last Year Of Bazaar
ok b4 updating here's a quiz i took
Which Naruto Character are You?
quiz by orangeday.net
i am anti social meh?? really huh?? baru tau sey.. heheh but who cares.. im sasuke.. *hint hint*
juz now went to bazaar wif my neighbor.. cabut terawih... yeah 1st part was fun lah meet up wif his frens 3 boys n 2 gerls so total 5 boys n 2 gerls... walking2 see2 hear2... all those ah.. joke ard.. bla bla.. n then arrive at kampung melayu... n then u know wat? it started raining... yeah.. so we stay for a while ngok org yg lalu lalang... macam2 pakaian org pakai... n juz now i saw some ppl dat i knew.. erm.. like weedy, qayyum, faiz, ismail fahmi, ali, laney, ann n some more lah.. donno who.. hehehe
bought dendeng!~~ n drank katira!~ yes ah... 2 down 3 to go... dat is ayam percik, kebab n entah.. heheh ngok lah nanti ada ape... so back to the story.. dah ujan takpe.. tapi ujan die on off jap lebat jap tak jap lebat.. aiyooo.. n then nk balik die nye lebat auzubillah.. tapi aku peduli ape nak balik gak... so mandi lah ujan... lesson learnt kai slua jeans jgn mandi ujan.. nanti slua berat n tak selesa.. hehehe
i tink im gonna get sick.. tapi takpe.. posa tetap posa.. take care all
Posted by Fr3aK[A]z0iD at 1:22 AM
Thursday, October 21, 2004
*grins*
Hallo all... wat im doing early in the morning?? basically im not sleeping.. heheheh..
ok ok... yesterday is like my 3rd day to break fast at home? heheh sori mom n dad.. not that i dont like the food.. it's juz dat.. too many ppl out there need to be "layan" heheh... n yeah today gonna break fast at my fren's place as ive never been there for such a very very very long long long tym... not dat i forget bout him.. but yeah as u know busy(ye lah tu bz slacking ada lah)...
n yeah yesterday ada citer pasal blogger blogger like u n me? heheh kat CNA get real.. i donno y blogger?... n yeah ada lah kisah satu budak ni.. die nak buno diri pasal die pikir parents die n sume kawan2 die tak care langsung pasal die.. so she decided to buno diri.. n leave a last post ah kat die nye blog.. but yeah.. miracles do happen.. kawan die sume stop her lah... n then baru die relise yg ada gak org yg concern kat die..
so lesson learnt... never assume on anything... there's always somebody out there dat concern bout u.. so dont disappoint them... live ur life to the fullest... be hepi in wat ever thing u do.. jangan ikutkan perasaan sgt.. pikir sblm buat pape... it's an advice for u all n for me too...
ye lah manusia sape yg tk pernah buat salah btol tak?? tapi kite belajar dari kesalahan kite.. bukan kite ulangi lagi kesalahan tu... n yeah another thing.. jangan lari dari masalah... hadapi sesuatu masalah tu dgn tabah... yep sharing is the best thing to do.. kerana kat luar sane mungkin ada org paham masalah korg yg korg ngah hadapi... so try to share.. kalau die tak leh selesaikan masalah tu.. jgn mengeluh.. at least die make an effort die korg citer panjang lebar...
yeah im not perfect nak nasihat2 kan org.. tapi yeah ini utk peringatan aku gak.. so.. yg mane baik tu korg amik.. kalau tak nak then.. takpe...
Posted by Fr3aK[A]z0iD at 7:25 AM
Tuesday, October 19, 2004
feeling down suddenly....
dont ask me y.. i myself dont know... even my result is great... even my day was fine.. but at nite... i always feel down unless sometink gd happen to me in the nite..
maybe nite is the perfect nite to start to think.. entah lah!!~~ i miss im so badly!!~~~ argh!~ wanna cry oredi... tsk.. tsk.. ok ok nank continue..
take care all...
Posted by Fr3aK[A]z0iD at 1:34 AM
Monday, October 18, 2004
wohoo.. is it me or im juz lucky..
woohhooo...
am i juz lucky or.. donno lah.. u know wat... i got B for my POC common test!!!~~~ woohooo tak xpect sia!!~~ hepi sia aku... tapi mungkin besok aku akan malang semalang2 nye.. hehehe... tapi... aku hepi ah B.. aku dah lah tak blaja... i was expecting a D or an F u know.. but a B??? woohooo...
Posted by Fr3aK[A]z0iD at 2:13 PM
boring..
1) pierce your nose or tongue?
i wld like to pierce my throat..
2) be serious or be funny?
depends lah..
3) drink whole or skim milk?
wat's a skim milk??? erm??
4) simple or complicated?
simply complicated...
* . . . D O Y O U P R E F E R . . . *
5) drinkin or smokin?
both?? but yeah quitting...
6) vodka or jack daniels?
can i choose or??
7) fighting or sleeping?
oways sleep never fite.. but i want to try...
8) lust or love?
Depends.. u cannot juz depend on love to MAKE LOVE.. hehehe
9) sunrise or sunset?
sunrise is a pain in the eye.. sunset is when lite becomes dark.. gd into ebil!~
10) M&Ms or Skittles?
maltizers
11) rap or rock?
indies plzzzz
12) dating or knowing more gals?
knowing more frens...
13) TV or radio?
all mass medias
14) pink or blue?
pink AND blue
15) rock-climbing or flying fox?
flying MUHAIMIN!~
* . . . A N S W E R T R U T H F U L L Y . . . *
16) Do you have a boy/gerl fren?
erm.. both?
17) Who is it?
so lot to mention..
* . . . D O Y O U P R E F E R . . . *
18) being hot or cold?
depends
19) tall members of the opposite sex?
erm.. *wonders* who's taller than me??
20) sun or moon?
without sun u cant see the moo.. n without moon the nite wll be in total darkness...
21) emeralds or rubies?
emeralds is green n rubies are red n i like both. so can i choose both??
22) left or right?
left = hospital, right = PA..
23) having 10 acquaintances or 1 best friend?
1 bestest fren
24) sun or rain?
if it's rainy wat for to ask for somemore rain???
25) vanilla ice cream or chocolate icecream?
strawberry is nicer...
26) gold or silver?
Mind U!~ boys cannot wear golds!~
27) green beans or carrots?
carrot altho green beans are green...
* . . . M I S C E L L A N E O U S . . . *
28) What is your biggest fear in the world?
HIS punishments?
29) Porsche or Ferrari?
depends... but it's useless in sg.. as the speed limit only 90km/h
30) Kids or no kids?
kids!!~~~
31) Cat or dog?
kucing
32) gays or lesbians?
donno but i'll go.. "EEEeeeEEE" if i saw a gay but "she's lesbian... erm.. ok"
33)Mustard or ketchup?
sweet chili puhleess... with mayo
34) Hard cover books or soft cover books?
hard cover if i want to keep the book for a long period of time
35) Newspaper or magazine?
newspapers = for short stories, mags = for reading ppl probs..
36) Sandals or sneakers?
looking for sandals rite now
37) Wonder or amazement?
surprises
38) Red car or white car?
red.. more sporty color
39) Happy and poor or sad and rich?
Rich n Happy..
40) Singing or dancing?
Singing to myself.. dance whens nobody's ard
41) Hugging or kissing?
*Huggies*
42) Corduroy or plain?
ape binatang tu?
43) Happy or sad?
those who are clever will choose sad.. -_-"
44) roses or daffodils?
tulips?
45) Blondes, brunettes?
pure black hair... or tudungz!!~~
* . . . A B O U T Y O U . . . *
46) What time is it?
1.53 pm
47) Full name?
Muhammad Muhaimin Bin Kamisan Bin ... Bin... Bin... Bin...
48) Nickname?
Fr3aK, Min, Mint, Muhai, Aimin, mimin, freaky, freako, priak.. nak lagi?
49) Names and ages of siblings
Khairani- 1984-2004
Izzati- !993-present
Atiqah- 1994-present
50) Number of candles that appeared on your last birthday cake?
DIDnt count
51) Date that you regularly blow them out?
erm... blowing candles?? whens there's blackout
52) Pets?
cannot have one due to my sickness
53) Height?
1.76(think so)
54) Eye color?
Some say it's brown n some say it's balck... can i say it's red?
55) Hair color?
black
56) Piercings?
-NiL-
57) Clean guy/gal/ pierced guy/gal?
Clean Gal
58) Who's the person on your mind right now?
My Lecturer Mr Alan Ang.. *wondering* how am i suppose to face him
Posted by Fr3aK[A]z0iD at 1:27 PM
Yeay!!~` aku hepi
Salam Alaikum... Gd day ebribody..
aku hepi skali!!~~~ nak tau asal?? pasal aku dpt chat ngan seorg kawan lama yg gi blaja di negeri org.. yg org aku maksudkan ialah Muhammad Sufiyan Bin Jumali... argh!!~~ die lah sorg sahabat... dielah sorg teman... entah kenapa aku rasa seronok bile dpt bebual ngan die... mungkin kerana saat die hendak belyar nun jauh di sana... aku tak dpt hantar... haiz!~ entah lah... rindu kepadanya dan kepada teman2 yg lain membara tiba2...
argh!~ inilah dinamekan kehidupan... setiap pertemuan ada perpisahan... perpisahan dari segi yg berbeza2... yah mungkin ini satu ujian utk sume umat yg hidup kat dunia ini... ape yg harus dilakukan ialah tabah menghadapi semua ini... haiz!~
bukan salah aku mengeluh... tetapi... aku teramat rindu... ingin sahaja aku putarkan masa.. hidupkan kembali zaman kegemilangan antara aku dan teman2 lame... kalau memang dpt... pasti bahagia hidup aku.. tak lah sengsara sampai begini rupa... haiz... mungkin inilah manusia... bila ada arang disyukuri... bila dah takde baru nak kesal...
hanya ini yg dpt aku lakarkan buat masa ini... dan kepada sume... aku mintak maaf kalau ada salah dan silap... aku bersyukur berkenalan dgn antum(kamu) semua...
Posted by Fr3aK[A]z0iD at 3:49 AM
No Need To Say Anything
Your aura shines Yellow!
What Color Is Your Aura?
brought to you by
Quizilla
Posted by Fr3aK[A]z0iD at 1:55 AM
again again~~
You came from heaven. Your gole in life is to help
others and to make the world a better place.
Some call you weak, but in reality your soul is
very strong. If only more people were like
you...
Where did you come from?
brought to you by
Quizilla
Posted by Fr3aK[A]z0iD at 1:50 AM
no better werk to do
Fire. Impulsive. Unlike Air, you do jump before you
look. When you have something in mind, you
won't let go. You have a strong will, and will
do anything to get what you want. From time to
time you can forget that other people have
feelings too, but at most, you're a happy
jumping friend.
What is your element?
brought to you by
Quizilla
Posted by Fr3aK[A]z0iD at 1:47 AM
Saturday, October 16, 2004
Hmmm...
yeah.. today is the second day of posa-ing.. yeah.. my parents invite all to me house to break fast together.. n yeah.. as usual.. disappointment.. is wat i get..
only onw of my cuz yg datang.. another cuz was werking and another donno where she's been to lately.. yeah die dah nak kawin bulan 12 ni.. erm.. bile die dah kawin no more lepak2 ngan die.. kalau dulu die lah paling rapat.. sume citer die tau.. sume citer die aku tau.. but now?? yeah.. can i juz stop the time and stay like dis forever??
nah... life have to go on.. no matter how hard it is we gotta face them wif a strong heard.. n strong soul.. hehehe.. project dah abis!!~~ yes ah!~ POC.. tgl nak understand n then monday gotto present.. how is my PnC coming along?? i donno ask my fren.. tu lah sape suro pepandai offer nak buat sume.. kan aku dah buat bodoh.. tapi jgn pasal die aku kene repeat sudah.. haiz!~ nak keep reminding him maca... aku dah lah tak buat keje abe nak kepo2... haiz.. tak tau lah..
korg nak tau ape??? aku kan dah niat tak nak beli rokok kan??? hehhe u know wat?? mak aku banje lah.. heheheh so macam aku tak mintak pun.. die ah "mamat tolong belikan beras nanti ibu upah rokok" wah!~~ any smoker cannot resist the temptation of ppl buying for him/her.. memandangkan rokok skrg dah mahal.. hehehe but actually i can juz not buy.. muahaha.. ah heck care.. heheheh yg mati aku per.. ahakz ahakz!~
so till then so long..
Posted by Fr3aK[A]z0iD at 9:38 PM
1st Day Posa
Gd Mornin/Nite/Evenin(depends on when u read dis blog of mine)....
1st day of fasting was fine.. not too bad actually... yeah as usual gonna be hungry but still can tahan abit.. but today really kinda test my patience abit lah...
ok 1stly juz now i go to skool at 12pm.. ahuh actually today no class at all.. go to skool to meet our lecturer Mr Jeffrey Ong.. n then yeah my grp leader call him to confirm n u guys know wat he says?? "im gonna be free only after 5.." wth... im there oredi k?? n wat u expect me to do until 5?? so bcoz of my fren got to go to his fren's crip.. we decided juz to meet him next week.. n then i go to prayers...
after prayers decided to lepak at my fren's place.. but i wonder y he didnt answer his phone.. after waiting i decided to go home.. after i boarded the bus.. my fren call me.. argh!!!~~ so i juz proced home n slip..
woke up at 5.30 n then wait until buka... n then go to terawih... n then to my frens place to do a photo taking session.. yeah
Click Here
n go to the three ninjas album ull see wat kind of photo we took.. hehehe
till then take care all
Posted by Fr3aK[A]z0iD at 1:23 AM
Friday, October 15, 2004
Selamat Berposa sume
Yeah!!~~ posa!!~~ posa dah bermula.. bulan yg penuh barakah.. yes cant wait... Ya Allah Ampunkan Dosa aku dan abg aku kat sane... *amin*... ok juz finish my last stick for the rest of my life *think so* n *hope so*... hehehehe nak quit!!~~ woi muhaimin quit lah.. jgn jadi bodoh.. buang duit kat rokok...
tadi jadi tour guide for khadijah n fadhilah.. hehehe.. alah setakat jalan2 abe dorg ikut je... n yeah bukan aku sorg but wif bedah n ammar.. erk.. tadi khadijah ckp ammar dah tinggi.. baru aku sadar.. heheh kalau tak leh taji2 kepala die.. skrg dah tak leh.. tsk.. tsk.. hehehe tapi die tetap bahan buli!!~~ yeah!!~~ heheheh
n then tadi maths quiz... nasib baik aku dpt paper yg set by my tutor... nasib baik senang n he's like helping me truout the test.. heheh best sia!!~~~ n it was like easy lah die tolong kalau die tak tolong.. pepandai lah aku jwb.. dah lah tak blaja... haiz.. pandai...
ok project C++ insya Allah bleh abis.. btol tak btol tu blkg kire ah.. janji siap antar.. n yeah PnC my teammate offer nak buat sume.. so i juz sit back n relax... bukan buli k? die yg offer.. hehehe both monday got to submit.. haiz!~~ mintak2 takde yg aku kene repeat lah.. aku malas nak repeat... hehehe
ok tgl 3 paper.. PnC, Computing maths n ERP... wooo hooo.. pastu enjoy!!~~~ yeah!~~ cant wait for gathering wif my former classmates.. n the guys from mwti.. sure will be great... laff non stop hehehe... can imagine oredi.. hehehe oklah nak kene tido nanti tak sahur.. "nawaitu sauma ghadin fi shahri ramadhana lilallahi taala"
Posted by Fr3aK[A]z0iD at 1:25 AM
Thursday, October 14, 2004
Nari Asal Aku Macam Hepi gitu
woohhooo.. 1st thing 1st... the test... hepi giler beb... ape yg aku blaja sume klua.. tapi kat section A je lah... tapi walau bagaimanapun aku tetap hepi pasal confident giler nye kat test tadi... insya Allah pass... *amin*
n then yeah as usual.. tiap2 hari aku mayap.. n makin terasa sg ni kecik pasal.. aku mayap balik2 tempat tu jugak.. hehehe.. tadi gi esplanade.. ngok water!~~ hehehe ok skrg aku tau.. kul 8 plus air pasang so the wave are BIG.. best ah... hehehehe.. n yeah... lepak nye lepak.. pastu balik ah...
n then tym balik tu... dah part aku dah nak turun(2 bustop b4 mine) ada dua budak kecik ni naik... dgn parents dorg ah... abe adik die macam tarik tgn mak die duduk blkg pasal aku kat blkg.. die duduk seblah aku.. so aku senyum lah kat die... hehehe dorg tanye name aku tgl mane sume... nasib baik tak terlepas busstop kalau tak aku humban bebudak tu dlm mulut mak die... heheh tapi cute ah.. dah lame tak layan strangers(bebudak) hehehehe...
n now.. yeah aku tersenyum sendiri ingat kembali peristiwa yg berlaku tadi...
Posted by Fr3aK[A]z0iD at 1:23 AM
Wednesday, October 13, 2004
Lagi 1hr n 15 mins
ok ok update... im at D2 comp lab... yeah follow my fren until i end up rite here.. hehehe takde keje actually nak blaja tapi.. kalau aku dah depan comp... mane pikir test nye.... tapi... aku nye test lagi bape jam je!!~~ argh!!~ tolong lah.. hehehehehehehehehehehehhe...
actually im too stress to study ni ah take a break by updatinmg my blog.. yeah hope leh jawab.. hope wat im confident at doesnt come out only at MCQ.. if not ah.. u wont see me again ill kill meself.. nah juz kidding.. argh!!~~ botak sey pala macam ni....
ok ok kene bukak buku balik nanti fail.. hehehe nanti aku update macam mane test paper aku k?? hehehe best wishes to me...
Posted by Fr3aK[A]z0iD at 2:18 PM
Buisness Information System (BIS)
haiz... look at the course Im taking... "Engineering Informatics"... yeah ingatkan juz engineering n IT stuffs... like programming n all.. but i dont expect a Bisnes material in that too!!~~~ argh!!~~ i juz dont like bisnes thingy...
y i tok abt dis?? i got this module's common test later.. n yeah as u guess it.. havent even open the book to study... n it's like the whole book to read.. sempat tak eh?? hmm hope so ah.. die test consist of 40%... n have no supp paper!!~~ argh!!~~ so nanak fail... wanna cry oredi... plz.. i need some luck rite now... wish me gd luck plzz!!~~~
Posted by Fr3aK[A]z0iD at 7:39 AM
Tuesday, October 12, 2004
Plz Dont Misunderstand...
abt the previous post... it's not that im dying... y sound like it huh??? no lah.. im healthy as can be... there's notink to worry abt.. n abt the lirik yg ada my name tu... i purposely change.. juz for the fun of it...
haiz!~~ susah lah korg.. im not there for u guys anymore doesnt mean im living this werld per.. aku pun lom cukup sedia.. aku nak puasa.. aku nak raya.. aku nak kawin aku nak abiskan blaja aku nak keje... sume tu aku blom buat.. so jgn lah buat assumption melulu...
kalau btol pun.. nak buat ape??? dah takdir aku pergi... doakan aku je lah.. or sedekahkan alfateha insya Allah aku aman kat sana nanti.. tapi previous post really dont misunderstand...
ok btw nari bday one of my fren name die "Nurul 'Aini Bte Mohamed Hamid" die menyambut hari lahirnya yg ke 17(ingat dah tua) pada hari ini... erm... best wishes for her.. in her life n studies n watever whe's achieving for... erm...
so tu je nak type.. last but not least jgn misunderstand k??? Salam Alaikum
Posted by Fr3aK[A]z0iD at 1:26 PM
Monday, October 11, 2004
b4 I go.....
hey.. yeah b4 i go to skool here's a piece from me... it mite not be great nor it will be fun to read.. it's juz a piece from the bottom of my heart..
juz wanna type to all of u.. especially my frens.. i juz wanna say sorry.. i donno y.. i juz feel guilty to all of u.. seems that i've done wrong to all of u.. yeah im a human too but.. hmm.. im juz sori k? n thanks for being there for me.. at gd or bad times...
take care all... n yeah.. if i really do go.. plz dont cry... juz take it as a fate that falls upon me.. continue wif ur life.. there's a lot more to explore.. take care.. *luv u all*
Posted by Fr3aK[A]z0iD at 6:54 AM
Sunday, October 10, 2004
If I Die Tonite(edited by me a lil)
If I Die Tonight
by Too Phat
Joe
If I die tonight
What would I do on my last day
I know i'll wake early in the morning
Crack of dawn's last ray
Will probably go for breakfast like I used to do
Fried kuey teow F.A.M and roti canai at Raju's with my boo
And friends from way back
Neighborhood, homies, extended family
Only know me as the same cat
With that shaved head
Rocking cross colours, sneaks the school
Rocking rhymes at back of class
Playing tricks on fools
Then I come back to the crib
Tidy up a bit
Y'all know my room's messy
Though classy
Start arranging my shit
Line up my shoes one by one
Start with Jordans and end with them Airforce ones
Put a post-it on the tongue of each one
With the name of each dun
I think I know my homies and who would want which one
Get on the phone and holler at everybody
It's nearly noon gots to have lunch with the family
I spend the last day, I don't know
Try to do a million other things
Hoping somehow time will slow
I guess what I'm trying to say is
Take everyday like it was your last
And work towards your dreams before you pass
And have a blast while you're at it
'Cos we don't know when we're gonna go
So make the best of it
Just keep it real to yourself
And to all people, if y'all lost somebody before
Remember they'll be to see you
Chorus
LiL Boogie
If I die tonight
You know we'll be alright
Just smile for me
Reminisce the fond memories
If I die tonight
You know we'll be alright
Just smile for me
Reminisce the fond memories
Malique
Well, if I die tonight
I wonder where I'll be tomorrow
Nobody cry, please push away the sorrow
'Cos I have been the best of man
The best of friends
The best of mum and daddy's last son
The best of anything
Tell Joe here's the last one
If I die tonight
Will I be forgiven
For all the people I've been slackin' with when i was livin'
Those who I've hurt their hearts
Took advantage of and even lied to
Hug you one last time for forgiveness
Yea, I would like to
If I die tonight
Would you feel the loss
Tomorrow would you dial my number by accident
And then suddenly paused
If I died tonight
I wonder who would get to keep my caps and shoes, jerseys
Even my little stuffed crocodile, Coco too
Get my cellphone, message everyone from A to Z
Tell them this ain't MUHAIMIN
He passed away last night
Pray he rest in peace
If I died tonight
What wouldcha think of my room
When you see blue
Wanted to clean it up this morning
But then I never knew
If I died tonight
What would happen to *entah*
How long would it take before she kissed another man
God damn
At fast food joints
Would you still order the same combo meal for 2
Things I wish I knew
Repeat Chorus
Malique
A cute little thing to many eyes
To me you were simply a beautiful thing
I tell no lies
We went from mere invisible friends
To pals real tight
A rendezvous'd upon
And then a chit-a-chat all night
I used to pick you up
Until you got your own ride
A slammin two door wheel
A grey 3672 lookin' all sleek
Remember when I asked why this
You said because its real fast
So you could rush to see your boy after class
The last time we met
Was 01 September
You left feeling upset
Over something I can't remember
I never apologised til January 10th 2003
When I heard you passed away
When I was deep in my sleep
Your loss taught me not to take my friends for granted
Misunderstandings gotta slam them quick
Death you never plan it
You're sorrowly missed down here
Warwin rest in peace
This too shall pass
But our true friendship will never cease
Love
If I die tonight
You know we'll be alright
Just smile for me
Reminisce the fond memories
If I die tonight
You know we'll be alright
Just smile for me
Reminisce the fond memories
Posted by Fr3aK[A]z0iD at 3:13 PM
Saturday, October 09, 2004
Gambar Nite Cycling 11-09-2004
ni die.. tak byk dua je gambar.. heheh btw tym ni yg korg nampak ni sume cabut from the actual nite cycling.. kite gi make our own route... n yeah.. gambar tu kite kat geylang.. kat joo chiat depan kedai makan tu... so here's the pic.. im in red...
ok from left Fir, Juraij, Me N Aki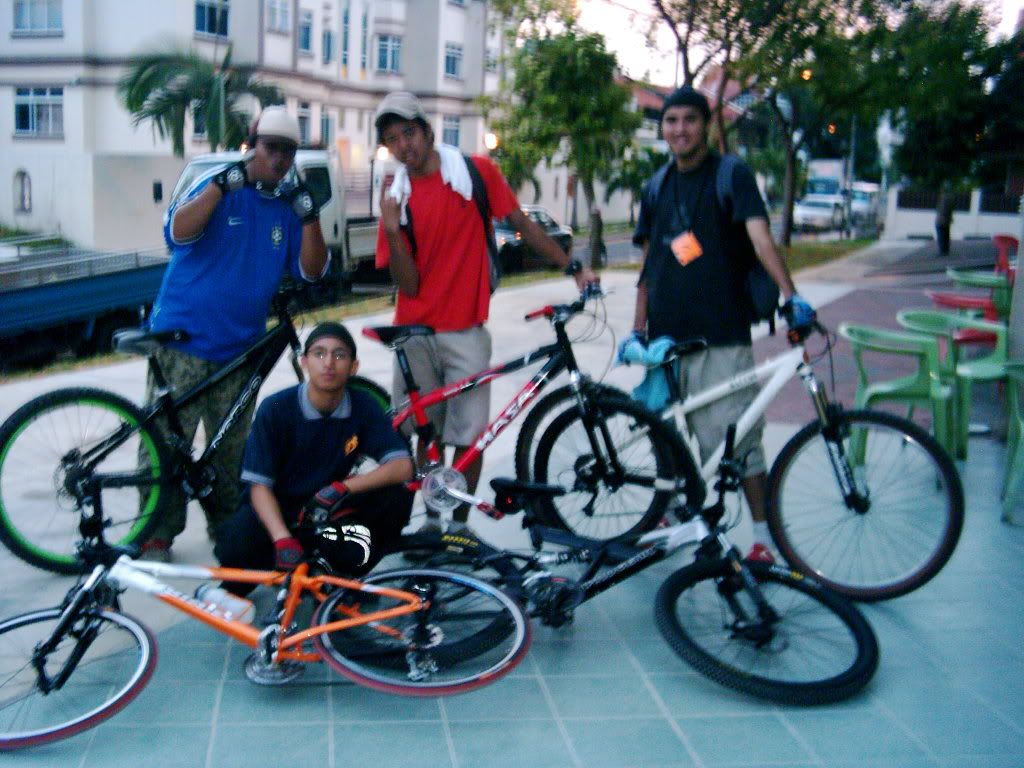 Juraij, Shaiqul, Me N Aki
Posted by Fr3aK[A]z0iD at 8:52 AM
Gua Gothic BEB!~~
You're Gothic.
Alone, cold, and distant, you're typically the
social outcast. You often find yourself in a
crowd full of people, while being the lonliest
person in the world, wanting something more
from life. Besides that, you're a damn
creative person, and you're always drowning in
your next "project." You're life may
seem dark and gloomy, with out much detail, but
in reality, it is quite the opposite. You
choose to keep your life rich by burying you
head in books that require thinking, and
writing people that confuses the common folk.
The world is a cold place--And you understand
that to the fullest.
Punk or Gothic?
brought to you by
Quizilla
Posted by Fr3aK[A]z0iD at 1:56 AM
Friday, October 08, 2004
"Hello Ceiling How Are U Up There?"
bosan bangert!!~~ stress.. entah ape lagik werd nak discribe.. hehehe
tadi bgn padi kul 9.45 erm.. n i got calss at 10? so how.. pikir2 macam nak ponteng je.. tapi oleh kerana aku baik hati.. aku gi mandi n gi skola.. yeah.. as usual dah lambat mandi cowboi je lah.. hehehe... klua umah genap kul 10 sampai skola kul 10.30 yeah!~ at least lambat half n hour je.. die pun ngok aku aku ckp "sori sir" pastu carik tempat duduk n listen to his blabbing...
next week nak kene hand in mini project.. satu bende pun aku lom buat.. entah lah ni team mate... mungkin die nak buat mungkin tak... erm... monday ni presentation.. nasib baik tak kene pakai formal... n yeah smlm semstrakl project nye presentation... actually tak kene kai formal tapi oleh kerana kelasmate aku sume dah satu hati.. kite kai je formal... abe jumpa ridzman die ckp "asal ko tak kai kasut smart?" erm.. aku takde ah.. ehehhe tak mampu...
pastu masa ngah tunggu luar kelas nak buat presentation jumpa kawan aku nye kawan budak 2nd year.. ko nak tau die ckp ape? "haiya.. semstral project no need to wear until like dis lah" wah liau!~ tu tym aku dah macam nak balik tukar baju.. tapi malas.. dah lambat.. n then kan kan kan....
aku klua gi kedai basikal ngan kawan aku kat dhoby ghaut.. oklah kedai tu.. tak byk pilihan... yg ada kebanyakkan urata ngan gary fisher je... erm.. tapi ada satu frame gary fisher tu... sampai $2022.. erk.. sape yg ber $$$ je yg mampu beli... n then jalan kaki dari situ gi masjid al-falah.. solat asar... pastu pasal kawan aku tu buka.. kite waste tym kat mesjid.. aku actually nak tido... tapi takpe lah... n then kite gi buka kat newton circus...
dah lame siot aku tak gi sane.. erm.. aku makan kuey tiow goreng si kawan aku makan mee kuah... abe tym order air... kawan aku order sprite ais abe die tanye bape apek tu ckp "wan tuwenti(1.20)" pastu aku nye turn "uncle milo ais how much?" uncle: "wan fifti" aku nye terkejut terus mintak sprite ais je...
sampai umah dlm kul 9 gitu pastu masuk net chat.. pastu tido... heheh penat giler sey smlm padahal tak buat pape sgt tu pun penat.. haiz!~ ni pun aku ngah pikir nak gi mane.. erm.. kompang kul 7.30... haiz!!~~ bosan!!~~
sape nak ajak aku klua nari dipersilakan tepon.. :D
Posted by Fr3aK[A]z0iD at 2:30 PM
Wednesday, October 06, 2004
Sure D or Juz A Big Fat F
haiz!~ wat to do... sape suro tak blaja.. kan... a reminder kalau ada test jgn lupa blaja nanti jadi macam aku tak leh jawab pun...
tadi kat skola abis kul 1 si Mr Ho tak jadi buat tutorial nari pasal die kasi kite chan blaja tapi friday ni ada tutorial macam biasa n die extend dateline kite hand in assignment which is on monday... yeah!~ tak sangka si Ho ni baik gak orgnye...
pastu nak tunggu kul 4 for the test tu... masya Allah punya lah sakit hati... tak tau nak buat ape.. slalu hari rabu lepak kat club room.. ni kali kat club room takde org.. argh!~~ so decided to lepak kat mcD je.. tenung buku, org, mcD, buku dan lain2..
dlm kul 2 gitu jalan dari mcD gi elp.. kat sane baru je duduk kerusi lom panas... kawan aku sms tanye aku nari ada test ke tak... erm... die ajak so called blaja sesame... so jumpa lah die kejap... bukannya aku blaja.. aku tenung je buku tu... pastu oleh kerana aku dah rasa nak tertido aku pun minta diri blah dari situ.. tunggu depan ltq7
n then here comes the test... yeah macam biasa b4 we can write anything we can flip tru the papers.. n i was like "huh wat the hell??".. erm.. so try je lah attempt... n guess wat i was the 1st to get out of the lecture.. kes dah malas nak pikir... n malas nak ngok tu paper... i juz hand in the paper n bgn dari situ... terus pastu gi jumpa kawan aku.. jalan2 takde keje... pastu balik...
yeah... can only hope for a D.. *amin*
Posted by Fr3aK[A]z0iD at 11:52 PM
POC TEST
woohooo nari test.. tapi satu bende pun lom bukak.. smlm pikir nak blaja skali tertdo ah amik aku obat... rasain.. erm.. ape masuk eh?? variables, loops... argh lupa ah.. nasib nasib...
posa nak dekat... raya pun nak dekat gak... IVP pun nak dekat... ni senior btol ah... nak kene tembak ada ke patut die blg senang je "eh min ko lepas posa takmo isap rokok nanti lepas raya aku nak ajak ko train gile babi nye.." erk... aku tanye ada ape? die pun diam.. haiz!~
ganti posa lom abis lagi 3 hari ni... nari posa... besok posa... jumaat posa!!~~ dah abis!!~~ yeah!!~~ hehehehe actually nari takde e-learning tu pasal aku sempat update blog ni.. hehehe masuk skola kul 9 nanti maths... pastu ada lab test??? argh!!~~ aku totally lupa sl lab test!!~~ takpe2 lepas tu tutorial... pastu kul 4 ada test!~~ argh!!~~ ok takpe... *ya Allah selamatkan lah aku**amin*
ok gd luck to all yg ngah exam fever.. gd luck to me too *amin*
Posted by Fr3aK[A]z0iD at 6:57 AM
Tuesday, October 05, 2004
Aku Pinky
You are the color pink. As a beautiful and sweet
human, you are everybody's favorite person.
Healthy and energetic, you're often seen
spreading the happines. As an unusually
charming and sweet person, you're always ready
to comfort people who are down. You sympathize
with everyone, but not always yourself. Aside
from that, you are light-hearted and cheery.
And you make it your duty to make every cloud
have
What color are you? (Amazingly detailed & accurate--with pics!)
brought to you by
Quizilla
Tak sangka~ aku tak sangka aku pink~~~
Posted by Fr3aK[A]z0iD at 7:28 PM
HuuuHHuuu
aku tak tau nak buat ape skrg... tgl lagi 2 min sblm aku klua umah berangkat menuju ke satu tempat... ya Allah lindungi lah aku andainya akan terjadi apa2 nanti maafkan aku...
heheh bukannya ape sejak kebelakangan ni aku mcm dah clumsy gitu.. pegang hp asik jatuh.. nak jalan asik tersandung... entah lah... mungkin dah alamt kot?? hehehe tapi takpe.. pekse dah nak dekat.. lagi dlm 2-3 weeks? n yeah besok ada POC test... written test.. wonders macam mane nak tulis ume coding tu.. haiz!~~
tapi takpe mintak leh pass test ni pasal ni POC dah lah takde supp paper.. ada je kene retake.. nanak ah.. waste 6 bulan.. ya Allah aku masih syg kelas aku!~~ hehehe..
oklah aku nak klua ni..
Posted by Fr3aK[A]z0iD at 1:25 PM
Saturday, October 02, 2004
Make Ur Own Face
Ada org recommend webby ni.. best-tun.. leh buat muka sendiri...

here's the pic aku buat sendiri.. heheh yeah masih beginner so tak lah hensem sgt.. btw ada gegerl gak.. so no worries kalau takde keje jemput lah buat bende ni.. juz
click here
ENJOY
Posted by Fr3aK[A]z0iD at 10:43 AM
Friday, October 01, 2004
takde keje
I am 44% evil.
I could go either way. I have sinned quite a bit but I still have a bit of room for error. My life is a tug of war between good and evil.
Are you evil?
find out at
Hilowitz.com
Posted by Fr3aK[A]z0iD at 3:02 PM
Leceh ah skola ni
oleh kerana aku absent smlm aku kene lah buat "statement of absence" abe ingat kan lepas submit je ok.. skali kene gi SAS office(aku pun tak tau ape bende tu) kene antar by hand.. haiz!~ leceh btol ah skola poly... so kepada sesape yg amik O level dis year.. n tak suka susahkan diri.. takmo sambung poly.. or sambung poly n takmo absent.. leceh auzubillah..
skrg ni ngah kat lab.. takde keje nak buat.. nak buat project C++ tapi teammate aku takde so buat ape nak buat... kite buat pandai sudah.. padahal monday kene pass up.. peduli ape aku.. cume satu ah aku tak nak repeat POC... mendakkun jiddan2...
lepas ni tak tau nak gi mane... aku ada kompang kul 7.30 tapi... abis skola kul 4 aku ada 3.30 jam.. tak tau nak buat ape.. nak lepak kat c.c malas pulak.. nak lepak kat esplanade... eh a'ah... kat esplanade ada "SENI" actually aku pun tak tau ape bende tu.. tapi yg aku tau tu ada kene mengena ngan arts.. entah kenapa sejak kebelakangan ni aku minat sgt kat arts n stuff.. seni n budaya.. tanpa seni dan tanpa budaya takde lah bangsa kan kan... hehehehe
smlm tgk citer akhirkata... best sia.. pasal film maker... independent nye filem maker... ambition lagi satu... buat filem sendiri w/o terikat kat ape2 company... n the film maker(hatta ape entah) says dat independent film maker makes the film for himself first then the audience.. woohhooo... film utk puaskan diri sendiri.. kalau dapat buat tu.. alangkah best nye!!~` hehehehe.. n one thing... sesape leh jadi pelakon... tak yah nak yg famous... amik je kat orchard tu ramai M&Ms.. dorg kesah ape.. janji ada $$ dorg sanggup.. hehehe...
oklah aku rasa sampai kul 4 lah aku stare ni monitor sampai aku jadi "degree holder"(istilah utk org kai cemate)... take care.. *chanting* quit smoking, quit smoking.
Posted by Fr3aK[A]z0iD at 2:26 PM