Friday, March 31, 2006
How Much My Blog Worth???

My blog is worth $20,323.44.
How much is your blog worth?
Hee!! if i were to sell away dis blog.. i shld be well fed.. and all "rounder"
Posted by Fr3aK[A]z0iD at 11:10 AM
Thursday, March 30, 2006
Heee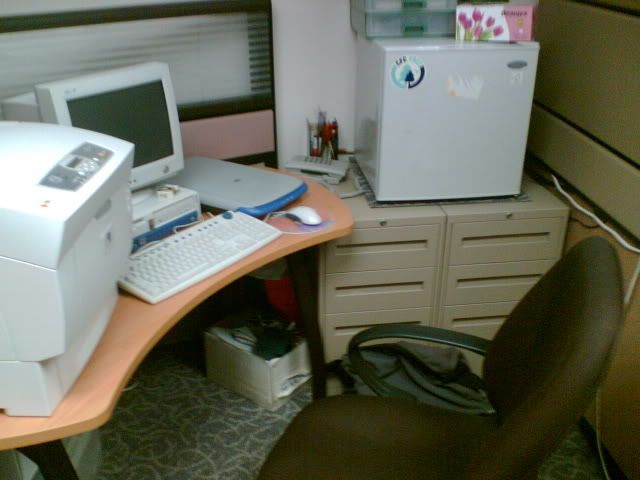 this is my werkdesk.. hee.. see the icebox!! wooohooo.. i got an icebox at my workdesk.. cool!! hahaha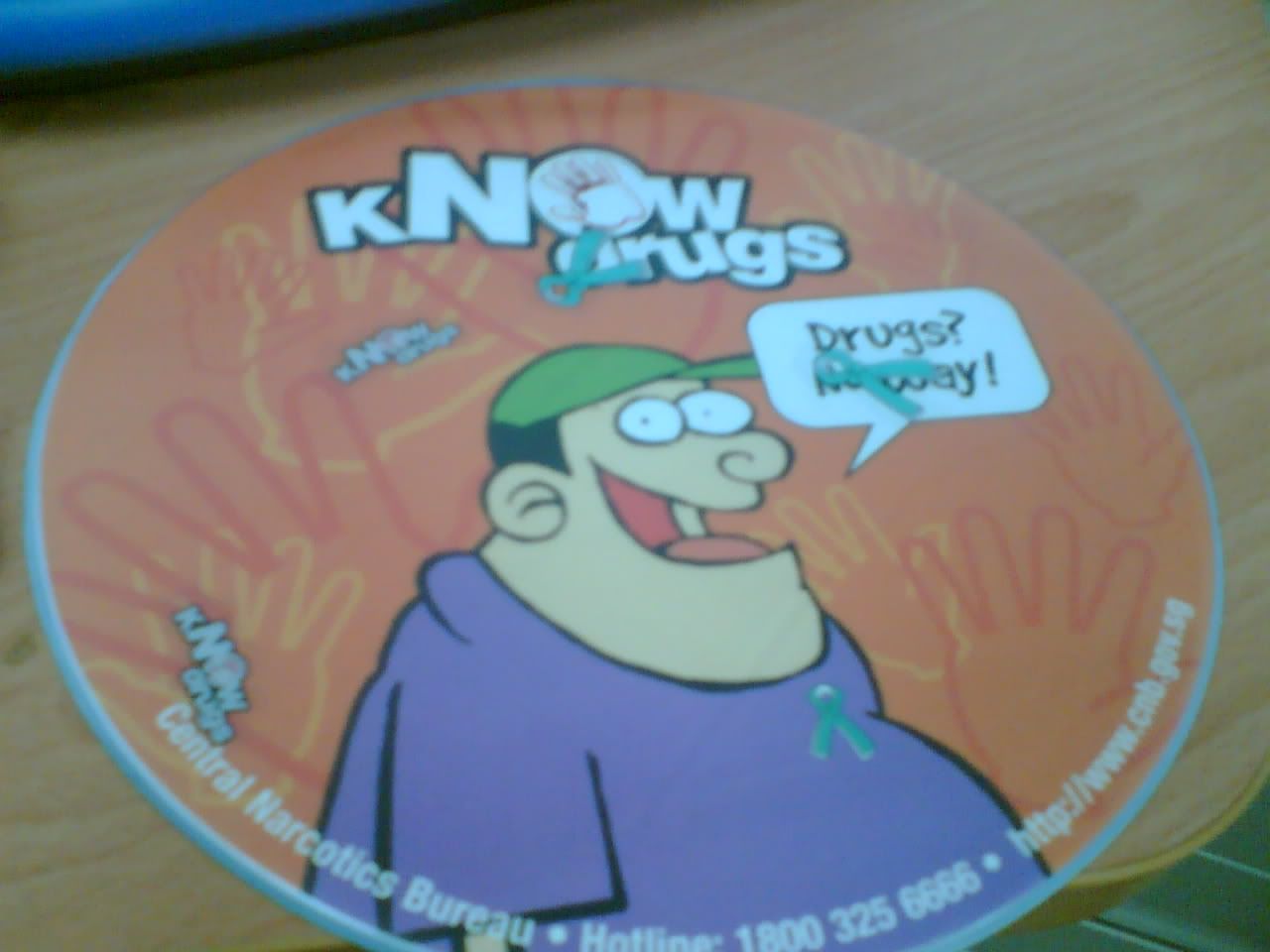 dis is my mousepad.. cute rite?? hahahah
Posted by Fr3aK[A]z0iD at 9:22 PM
Friday, March 24, 2006
Tick... Tick... Tick...
Sekarang tepat pada pukul 5.15 petang.. masa dibawakan oleh jam dinding yang tergantung di ofis MIS @ AMP... dan dgn itu... lagi 45 min lagi.. saya akan pulang ke rumah..
hmm.. 2 weeks pass me by.. yep.. it's been a long 2 weeks.. y? attachment of coz.. been slacking since day 1.. so.. yep.. got use to it day by day... hehehe... hmmm.. let's see.. actually.. i donno wat to type.. but yeah.. i think it's been awhile since i updated my blog..
ok 1st let's talk abt movies.. i watch 3 movies oredi!! woohooo... 1st V for Vendeta.. super nice movie!!! but yep.. make sure u are wide awake to watch dat movie or just get urself some sweets.. bcoz alot of talking but the thing it's great! imagine a man alone againse the whole nation! wooohooo nice rite??? and yep.. there's this one part.. one guy was executed just bcoz he owned a Qur'an.. yep was executed! so overall i give it 4/5..
2nd Yours, Mine and Ours.. imagine.. cheaper by the dozen.. but more!! hahahah... the sypnosis is like got dis guy, Frank, got 8 children.. and all well managed, well organized, the rule type kids.. and the women is.. erm.. forgot the name.. with 10 kids.. 4 of her own and 6 adopted.. each one of them have each of their own talent.. but.. they are not organized! hahaha.. so imagine the both family join together! mischiefs! cuteness! and all!!! catch it.. i give it 3.5/5
3rd Nanny McPhee.. great movie for a teacher.. yep.. super nice.. n cute too.. donno wat to say abt that movie.. give it 3.5/5
yep altho im quite beezee with attachment.. but i still have a lil time for myself.. so yep.. werking life doesnt mean no life.. there is u just got to find it.. heee..
i wanna shop!!! but no money!! haiz.. susah lah gini.. biler ada duit.. ada jer yg tk kene.. haiz!~ nak kene bayar ni lah.. tu lah.. waduh2.. pening kepala.. tapi takpe.. duit bleh carik kan kan kan...
wat is the meaning of concern between frens?? just a random question out of my mind lah.. it's good lah to concern abt others.. but too concern.. hmmm i donno..
n yah!!! i got a stalker!! hahaha.. no lah.. got dis anonymous.. i shld say 2 anonymous person! can u plz.. tell me who u r.. haiz!~
Posted by Fr3aK[A]z0iD at 5:13 PM
Tuesday, March 21, 2006
240th post
before today i was scared.. b4 today i wouldnt even want to know.. b4 today everything become uncertain.. b4 today my confidence level is at the very low.. but it all changes..
i got my result today.. yep.. the result of the semster ive been waiting for it to end.. oklah.. the result shocked me.. but the end result make me feel disapointed in myself.. haiz.. but it's ok.. it's just wat i get for being the way i am all this while.. hope to change for the better.. but.. nvm..
werking life is boring.. routine repeatition is boring as well.. try sometink diff
Posted by Fr3aK[A]z0iD at 11:25 PM
Monday, March 20, 2006
Swimming
1st day of 2nd week of my attachment.. yep.. ard 11 more weeks to go until i really end my attachment.. n here come FYPJ/FYP(Final Year ProJect) that will oso tkae me 12 weeks... then.. will be my academic semester.. then.. the werd ive been waiting for "GRADUATE" heeee... how i like that werd so much.. hehehe.. dont ask me y? but that if my result 2moro.. oh yah.. result will be out 2moro.. is good lah.. haiz.. no confidence in the past papers.. but it's ok.. i tink i did my best...
look at the title... heee.. yes yesterday.. during my werk at escape.. i went for a swim UNWILLINGLY... i was stationed at bumper boat(if uve been there u know wat i mean) then was warn.. that ill be wet at that station bcoz of the squirting and all that i dont mind.. then got dis once where i was squating in front of the bumper boat with guest in it.. after unhooking the ropes i tried to push the boat.. but guess wat happen?? i fell into the "pool".. yep.. i was drenched.. be reminded that my HP was in my pocket.. so it got wet and spoilt!!!
that incident really spoil my mood to werk.. but nevertheless still nid to werk.. then i hurt my thumb.. haiz.. i donno how.. but suddenly my thumb was bruised.. haiz!~ so many things happen in just a split seconds... fell in a "pool" with my uniform and shoes on.. and all the things in my pocket.. and then bruised my thumb.. haiz... maybe it's a lesson for me to be more careful next tym..
oh yah.. after reading dis.. laff as hard as u can.. coz dis is the only mistake(i think) i made and laff out loud together..
some ppl say being sodft is good.. but too soft might bring u to the losing end..
Posted by Fr3aK[A]z0iD at 9:55 AM
Wednesday, March 15, 2006
Ahakz!~
guess where i am judging by the time i type dis post?? u know?? ok ok i tell.. im at my office at AMP.. u know.. my attachment... wat the hell im doing typing dis out?? basically im bored.. yes.. pretty sure abt that.. i donno abt other interns(sound like grey's anatomy huh?) but im left with no werk.. hehehe..
i hope there will be some 2moro or next week.. oh yah.. 2moro im going to take a half day leave.. just started and then wanted to take leave?? im sori.. but cant help it.. i need to go for my appointment.. yeah.. i know.. im not that fit.. so that's the reason for me to go for checkup lor..
today is the third day of internship(damn! i like the werd).. and just now i get to sit on the chairman's chair!! woohooo.. comfy chair i shld say... i was basically just checking the anti-virus software on his come to see whether it is updated or not.. i think that's all wat i did today.. hahaha.. *looking at the watch* ooo left only 50 mins for me to be here... weee!~ and then.. home sweet home i guess.. heee..
Posted by Fr3aK[A]z0iD at 5:06 PM
Sunday, March 12, 2006
18 March
yep that's the day.. when i lost my grandma.. n it will be next week.. next week will be a year living without my grandma.. 2 years plus without my bro.. haiz.. a fren blogged abt how she missed my bro so much.. and i truly understand how she felt..
go read last year's march archive.. u will know wat happen on that day.. let me tell u the whole story on wat had happen..
on the 17th of march 2005.. early in the morning..a rd 5 am when my mom is heading to werk.. she woke me up to off the computer.. as im downloading i just off the monitor n went back to sleep.. then my mom woke me up again.. and that tym really pissed me off but the reason y she woke me up shock me.. she said my grandma was sick.. so i tot it was a normal sickness that old ppl get..
i went to my grandma's room.. i was shocked to see my grandma's condition.. she was lying face down on the floor.. with sometink oozing out off her mouth.. im really scared and my mom got really panicked and even forgot the ambulance number.. i was like shouting to make her to sense like "995 lah!! ape ibu ni.. relek leh tak??".. i was by her(grandma) side while waiting for the paramedics to arrive.. i try to be strong and not shed any tears so that my mom will be abit calm..
when the ambulance came.. they took her away and my mom followed the van.. to TTSH.. then my sis and aunt went there as well.. as for me.. i got to wait for my dad who's werking.. then we went str8 to TTSH.. that's the place where i get the most shocking news that i broke into tears..
the news is.. one of the artery in grandma's brain burst.. and they are doing the surgery.. it was hours b4 i get to see my grandma.. but i broke into tears once again to see her condition.. she was like a blown balloon.. really.. and there was a bandage on her head.. after a few hours.. the doctor said they need to scan my grandma's brain to see wat when wrong..
a few hours later the doctor call up few close members of the family to a so called meeting room.. i was dragged by my dad to go in and hear the news.. so the news go like dis... "ok i hope u guys are ready to hear wat im going to say.. while we was scanning her brain.. another artery burst in front of our eyes so the patient was send to operation theather for an immediate surgery.." my eyes nearly pop-out.. my ears nearly bleed hearing that news..
as u know.. there will be some stoopid relatives who will ask "will she be orite?" stoopid rite!!! then after the operation my grandma was.. argh.. wires all connected to her.. like.. a living machine.. then another stoopid relative ask the doktor "when can she be discharged?" that really pissed me off and i walked out of the ward and sit alone.. yes.. trying to be strong.. and pray for the best..
then my parents was called up by the doctor and i was dragged again.. here's another conversation:
dad: so how is her condition doctor?
doktor: now she's relying on that machine to stay alive.. and im asking u here is to make a decision..
by that tym i was out of the room.. i cant bear to hear wat's the choices are.. then my parents went out.. and had a talk with everybody..
dad: assalamualaikum.. saya harap sume dpt bertenang.. skrg.. doktor ckp mak dah tkde harapan sembuh.. dan.. aper yg saudara2 lihat di dalam.. itulah yg menghidupkan mak.. tapi.. mak yg ada yg kiter lihat tu.. sebenarnya dah takde.. yg ada hanya badan die jer.. kosong.. tapi masih hidup.. jadi.. skrg.. saya telah buat keputusan.. utk.. berhentikan ubat2 yg dorg beri dari mesin2 tu.. dan biarlah mak pergi..
argh! that's the moment where i want to be by my grandma's side at all times.. she was pronounced dead on the 18th of march.. morning.. cant remember the tym.. from that day on.. i know.. i will have to be strong.. ive lost those very dear to me..
i miss them.. really.. i do.. i pray to Allah.. that their soul will be blessed by Him.. *amin*
Posted by Fr3aK[A]z0iD at 1:57 AM
Friday, March 10, 2006
Two
i like dat number since young.. i donno y.. im just like dat.. when other kids ard me all wanted to be the superheroes.. i would rather be the sidekick.. like robin.. or when coming to group super heroes i like the last one better or the subordinate.. not the leader of that grp.. heheh..
now i got two news at the same tym.. one is good and the is bad.. so i shall start with the bad one 1st..
condolence to our fren, fadzly ismail, for his lost.. his father passed away yesterday nite after isyak.. i pray for his soul to be at peace and get the blessing of Allah.. *amin*
next abt the gd news.. im starting my attachment dis monday.. and the gd news abt it is.. im attached to a muslim organization which is AMP, association of muslem professionals, so prayers is not a problem for me.. heeee
so dat's all..
Posted by Fr3aK[A]z0iD at 8:23 AM
Tuesday, March 07, 2006
Inikah yg tersurat utk seorang anak?
apakah yg telah tersedia utk seorang insan yg digelar anak?? soalan yg membuat kan aku terfikir setelah membaca sebuah rencana di akhbar tentang kematian "nonoi" atau nama sebenar nurasyura.. Meninggal di tgn bapa tiri.. ape lah dosa anak itu sehingga dibunuh?? ia juga membawa aku kembali ke cerita true files.. tentang seorang budak berumur 7 tahun.. yg didera berbagai cara.. haiz!~
kenapa lah di dunia ini ada insan yg kejam sedemikian?? utk dijadikan ikhtibar?? atau utk "suit" the phrase "nobody's perfect".. haiz.. aper yg diinginkan oleh seorang anak.. tk semestinya sempurna?? ape yg diperlukan oleh mereka ialah belaian kasih sayang seorang ayah dan ibu.. saling hormat menghormati.. tapi.. haiz.. sedey..
aku juga begitu.. bukan aku didera sedemikian rupa.. tapi.. niatku hanya ingin mengubah persepsi.. yer.. aku seorang yg tidak suka berada di rumah.. itulah aku.. merayap ke hulu hilir.. walaupun tanpa arah tujuan.. aku tidak ingin duduk di rumah rehat.. aku akan jejakkan kaki ke luar.. ke dunia yg penuh kemaksiatan..
aku ingin mengubah tindak tanduk ku.. aku ingin luangkan masa di rumah.. tapi keadaan tidak mengizinkan.. mungkin mereka senang bile aku tidak ada.. aku tidak mahu berfikiran buruk tentang mereka.. tapi utk yg dpt aku lihat.. hah!~ satu hari mereka begini.. esok pula mereka bergitu..
pelikkan manusia ni? berubah dgn sekelip mater.. kecil atau besar perubahan itu.. tidak menjadi ukuran.. orang kate.. hidup ni mcm roda.. kejap kat atas kejap kat bawah.. tapi idup aku.. mcm.. roda jugak.. tapi bile aku kat bahagian bawah.. roda tu berenti buat seketika..
Posted by Fr3aK[A]z0iD at 11:59 PM
Dillema
shld i wait?? or shld i put an effort and go look for it?? but how???!~~ aiyoo.. stress ah gini.. mcm bodoh sey.. tu lah padan muka aku.. kan dah kene.. haiz.. dari tadi sey tunggu tapi tk timbul2.. sedey!!!
mungkin ini satu ujian utk menguji lah kan?? so bersabar jer.. mungkin ada hikmah disebalik segalanya.. tapi aku mcm tk leh dok diam sey.. gelisah.. risau.. haiz!~ segala macam perasaan bermain dibenak.. sronok lah perasaan aku dpt main.. tapi aku yg menderita.. haiz!!~~~
taqwa erti kate lain sedar yg Allah itu wujud
Posted by Fr3aK[A]z0iD at 12:39 AM
Sunday, March 05, 2006
Quizzes
Your IQ Is 100

Your Logical Intelligence is Below Average

Your Verbal Intelligence is Above Average

Your Mathematical Intelligence is Exceptional

Your General Knowledge is Above Average
Your Birthdate: July 28

You have a Type A personality so big it makes other Type A's shrink away in shame.
You never shy away from adversity - and you love to tackle impossible problems.
Failure is not an option for you, and more than a few people are put off by your ego.
You tend to be controlling, and you hate leaving anything up to chance.

Your strength: Your bold approach to life

Your weakness: You don't accept help

Your power color: Bronze

Your power symbol: Pyramid

Your power month: October
You Have a Melancholic Temperament

Introspective and reflective, you think about everything and anything.
You are a soft-hearted daydreamer. You long for your ideal life.
You love silence and solitude. Everyday life is usually too chaotic for you.

Given enough time alone, it's easy for you to find inner peace.
You tend to be spiritual, having found your own meaning of life.
Wise and patient, you can help people through difficult times.

At your worst, you brood and sulk. Your negative thoughts can trap you.
You are reserved and withdrawn. This makes it hard to connect to others.
You tend to over think small things, making decisions difficult.
Posted by Fr3aK[A]z0iD at 12:52 PM
Saturday, March 04, 2006
tkde keje
Your Hidden Talent

You have the power to persuade and influence others.
You're the type of person who can turn a whole room around.
The potential for great leadership is there, as long as you don't abuse it.
Always remember, you have a lot more power over people than you might think!
Posted by Fr3aK[A]z0iD at 7:52 AM
Maklum Lah..
1st and foremost and forecast and foreman(aper bende ni?) i would like to wish each and everyone who's bday fall in the month of feb e.g. fana and shahrul and march e.g. 'aisyah and Mak N(bday die march eh?) a hepi advanced/bleated/on the dot bday.. sori lah.. been beezee lah.. it's not that i forget ur bdays but cant make myself remember to wish u.. get it?? hahaha org giler macam aku jer paham..
ni pagi2 dah bertenggek depan comp.. hahah.. nk tido tk leh.. tapi mcm ngantok.. takpe lah.. matehari pun dah meninggi.. jgn ckp buat taik mater jer.. kalau aku tido nanti aku berpeluh.. maklumlah.. fan kat bilik aku dah rosak.. and aircon ni aku limit sendiri on tym malam jer.. so terpaksa lah aku menahan sikit kepanasan..
baru abis exam jer dah tk balik umah.. hahaha.. fierce kan?? alah bukan aper.. ada chalet ngan bebudak keje kat costa sands.. ada yg basah ada yg kuyup ada yg kering ada yg tak tau aper lagi nak kater.. hahaha.. oklah overall it was ok.. ada part mendak die ah.. aper tk yg overnite bleh dikire sey baper jer.. hahaha..
abe smlm dari chalet terus ke suntec.. buat aper?? shopping ah!~ mampos.. duit kat bank tgl baper ada hati nak shopping.. tk lah.. gi tu Fifa World Cup Trophy Tour... best ah.. dpt amik gambar ngah the REAL world cup's CUP.. alah yg color gold yg last 4 years ronaldo julang pastu cium2 tu.. ah.. cup tu lah yg aku bergambar bersame.. heee. mahal dok bende tu.. aku rasa pure gold ah..
then after that gi melepak.. aku ni pun leh tumpahkan air kat slua.. bagus kan.. sejak biler entah aku jadi selenger..
ok ah.. sampai sini jer.. nk ngok aper ada kat dapur.. perut dah *kerak keruk kerak keruk* macam katak..
Posted by Fr3aK[A]z0iD at 7:31 AM
Thursday, March 02, 2006
It's The End
it's the end of my 2nd year in poly.. and in a week and a few days time ill begin my attachment.. not been updating regularly due to my exams.. which i think i did badly dis tym round.. haiz.. just praying that i manage to pass all..
Posted by Fr3aK[A]z0iD at 3:01 PM